On Sunday April 28, 2019, the streets were awash in a beautiful sea of daisy, a lovely shade of yellow. Just over 4,000 people participated in Co-op Bank's 11th annual Pump it Up! Family Fun Walk, a spectacular event put on by Co-op Bank as the main feature of its Healthier Lifestyles Program. The event was sold out with just under two weeks before the event – proof that Pump it Up! is a highly anticipated event.
Following a countdown which included a warm up session led by the Body Image Health Club the walk began at 4:00 p.m. with the crowd of participants departing the Morne Rouge playing field toward the National Cricket Stadium. Some participants took the challenge route which was used again this year, diverting up Lowther's Lane, down Marrast Hill, through River Road, and onto the National Cricket Stadium. 
In 2017, for the first time, Co-op Bank announced its collaboration with Jonas Browne & Hubbard (G'da) Ltd, FLOW and Guardian General Insurance (OECS) Limited to pool resources for the benefit of one major sustainable initiative – the re-establishment of the Carlton Home. Antillean Group was welcomed on board in 2018 as the fourth Benefactor, and in 2019, Coyaba Beach Resort joined the team of Benefactors to add its contribution to the initiative.
In his remarks to the participants during the closing ceremony, Managing Director of Co-op Bank, Mr. Richard W. Duncan spoke of the benefactors as being
"fully committed to supporting those who are battling substance abuse so that they can make a valuable contribution to their families and society." He further stated that "the significant financial contributions of these companies to date have gone directly to a trust fund, which will be managed by the board of trustees made up of the initial benefactors and the Bank." 
This year, the contributions of the Benefactors totaled a significant $65,000.00 which has been placed in theTrust Fund created for the initiative. As is customary, Co-op Bank contributes $1.00 per mile for each registered participant: 721 participants in Carriacou resulting in a $2,700.00 contribution; and 4,174 participants in Grenada – 3,966 on the regular route and 208 on the challenge route – resulting in a contribution of $17,000.00.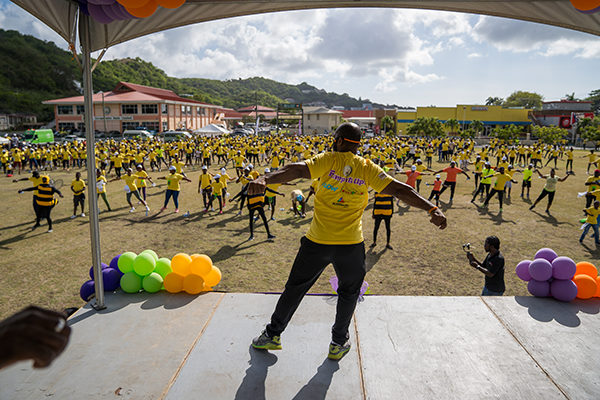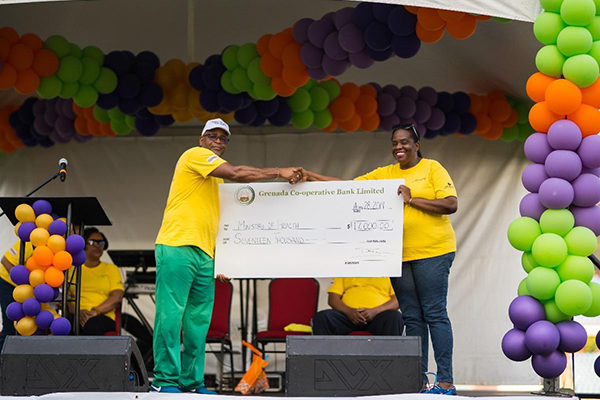 The total amount raised since 2016 including Benefactor contributions now stands at $240,053.64, almost halfway to the goal of $500,000.00 which the Bank hopes to attain by 2021 toward the re-establishment of the Carlton Home. 
Prizes were awarded for largest registered groups and individuals.
Largest registered community group – SPAR

Largest registered family – Hilda Stephen & Family

Largest registered church group – St. George's SDA Church

Largest registered school-based group – St. Joseph's Convent, St. George

Registered workplace group (micro) – Compass Shipping & Axcel Finance Team 

Registered workplace group (small) – Coyaba Beach Resort

Registered workplace group (medium) – Grenada Nurses Association

Registered workplace group (large) – Geo. F. Huggins 

Youngest registered female on foot – Kahlasee Felix

Youngest registered male on foot – Jovi Fletcher

Youngest registered baby girl in stroller – Eliana Sylvester

Youngest registered baby boy in stroller – Kanniel Telesford

Most senior registered female – Auslyn Williams

Most senior registered male – Mike Francis

Wildcard prize – Kristen K
This year, there was a prize for a wild card winner – a registered participant not falling within any of the individual prize categories. At the end of the prize giving ceremony, participants were entertained with the scintillating sounds of one of Grenada's most popular live bands - Mystic.
Co-op Bank wishes to commend all participants for their stance on healthy living and for their support toward the re-establishment of the Carlton Home!
Got Any questions? Feel free to contact us