Grenada Co-operative Bank Limited
Pump it Up!
Press Launch
On Thursday, March 14, 2019, Grenada Co-operative Bank Limited held a press launch at the Gordon V. Steele Conference Room at its Church Street location, to announce its 11th annual Pump it Up! Family Fun Walk.
Mr. Roger Duncan, Customer Care Manager at Co-op Bank, emphasized the bank's continued commitment toward the re-establishment of services at the Carlton Home rehabilitation centre for substance abuse. In his update he advised that Pump it Up! will be held in Carriacou on Sunday, April 7, 2019, starting from the Harvey Vale playing field on to the Hillsborough Tennis Court; and on Sunday, April 28, 2019, in mainland Grenada, from the Morne Rouge playing field to the National Cricket Stadium. He added that registration has begun and invited persons to come out in their Daisy yellow shirts.
Mr. Richard Duncan, Managing Director of Co-op Bank reiterated the Bank's focus on the project to re-establish the Carlton Home Rehabilitation Center for substance abusers under the Pump it Up! brand. In 2017, a Memorandum of Understanding (MoU) was signed among Grenada Co-operative Bank Limited, Flow Grenada Ltd, Jonas Browne & Hubbard (G'da) Ltd, and Guardian General Insurance (OECS) Limited to collaborate toward the project. In 2018, Antillean Group was introduced as an additional benefactor to the initiative.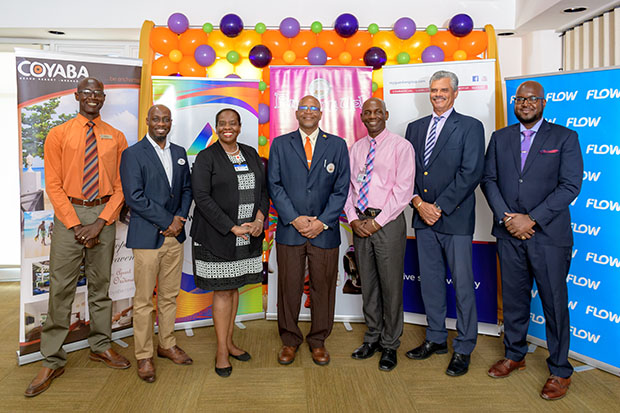 The Managing Director added: "due to the enormity of the problem and the resources required, we continued to invite other members of corporate Grenada to join the efforts of the Bank and the Ministry of Health to combat the health challenges arising from substance abuse… companies that share similar core values and understand the importance of this challenge to continue coming on board." He advised that one such entity heeded the call to join the existing team of Benefactors, introducing Coyaba Beach Resort as the newest addition to the team of esteemed benefactors.
In his statement, Mr. Duncan also advised that to date, the collaborative efforts of the bank and benefactors have raised over $220,000 moving steadily to our target of $500,000 by 2021.
Mr. Philbert Lewis of Hubbards, Mr. James Pitt of Flow Grenada Ltd, and Mr. Kennie John of Antillean Group each spoke of their experiences with the Pump it Up! event and brand and reiterated their companies' commitment to the initiative going forward. As a show of their commitment, each partner presented their 2019 contribution to the fund. Dr. Sonia Nixon, Senior Medical Officer at the Ministry of Health expressed gratitude to the benefactors for their efforts toward a much-needed facility, further highlighting the social impact substance abuse has on our population.
Since 2009, a different health-related charity has benefited from the proceeds of the Pump it Up! Family Fun walk, such as the Grenada Heart Foundation, Grenada Diabetes Association, Grenada Kidney Foundation, Sickle Cell Association of Grenada, Grenada Cancer Society, Pink Ribbon Society, and Lupus Foundation of Grenada. As the Bank celebrates its 11th family fun walk, it remains committed to promoting vibrant and physically active lifestyles, encouraging preventative approaches to health issues, and making available to the public, information concerning health matters as part of its Healthier Lifestyles Programme.
Got Any questions? Feel free to contact us